Dar-bee-ling: Welsh Wildflower Honey & Darljeeling Ale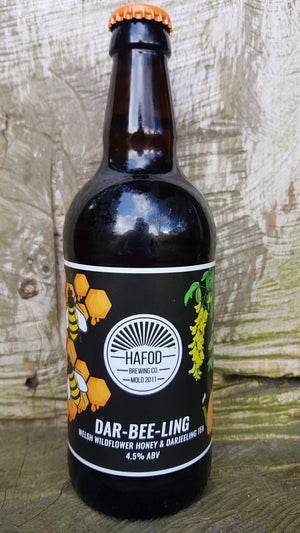 DAR-BEE-LING 4.5%

 - 500ML BOTTLE
** Dar-bee-ling has a Best Before Date of April 23 - the beer is perfectly safe to drink but please be aware of the date when you make your choices **
Refreshing golden ale made with local Black Mountain wildflower honey, Darjeeling tea and lemon peel. 
Iced Tea in a beer! Sweet, floral notes from local honey, astringent tea flavours with a clean, bitter lemon finish.
INGREDIENTS
Water, Malted Barley, Honey, Darjeeling Tea, Lemon Peel, Hops & Yeast
Contains Gluten from Barley
HISTORY
A collaboration beer with Black Mountain's award-winning Welsh wildflower honey. Just in time for better weather, here's our take on an iced tea style honey beer.
Brewed with honey sourced less than three miles from the brewery itself. Head brewer Phill has expertly blended Darjeeling tea with wildflower honey to create a refreshing golden ale.
Best served in the garden.
PACK OPTIONS:
12 PACK
12 X 500ml Bottles of Dar-bee-ling
11 PACK & SCHOONER
11 X 500ml Bottles of Dar-bee-ling plus a Hafod Club Glass