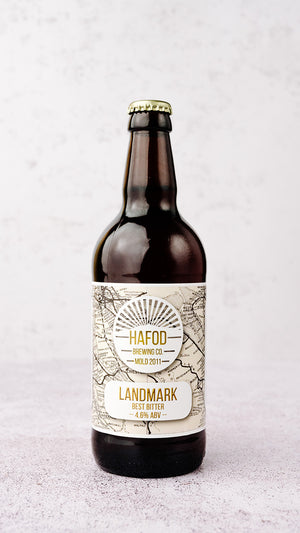 LANDMARK 4.6%
 - 500ML BOTTLE
Moreish full-bodied bitter with juicy malt flavours, a fruity aroma and a smooth bitter finish.
INGREDIENTS
Water, Malted Barley, Hops & Yeast

Contains Gluten From Barley
HISTORY
To mark moving into the new brewhouse in 2015 Head brewer Phill decided to make a stronger, more hoppy version of our standard bitter; Milestone. To fit the occasion we called the beer Landmark.
Landmark is our best-selling beer in both cask and bottle formats & is also the house beer at a number of pubs and restaurants including the Plas Hafod just down the road from the original brewery.
The label uses an old map of north Wales & Merseyside railway lines.
Now winner of a 2 star award at the Great Taste Awards 2020!
PACK OPTIONS:
12 PACK
12 X 500ml Bottles of Landmark
11 PACK & SCHOONER
11 X 500ml Bottles of Landmark plus a Hafod Club Glass