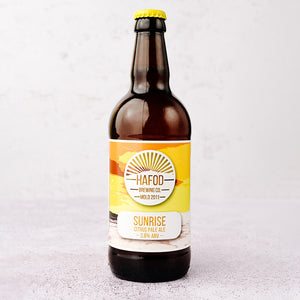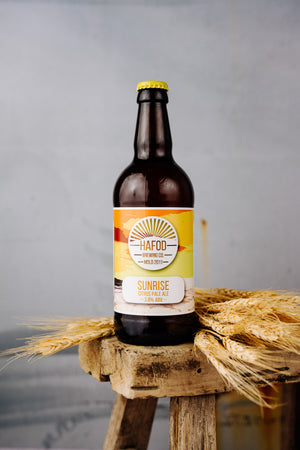 SUNRISE 3.8% - 500ML BOTTLE
A pale, refreshing ale with good citrus flavours and a crisp, grapefruit bitterness.
INGREDIENTS
Water, Barley, Hops & Yeast
Contains Gluten from Barley
HISTORY
This beer started out life as a house beer for the Tavern at Alltami. Head brewer Phill worked with the owners to create a crisp, refreshing pale ale to compliment the menu.
After being urged by the local CAMRA team, we decided that the beer was too good to just be available in one place. Renamed Sunrise, it quickly became our best-selling pale ale due to its clean flavours and very drinkable 3.8% abv.
Sunrise was also the first beer we bottled in our new format. The label shows a stylised picture of a sunrise at Talacre beach.
Now a winner at the Great Taste Awards 2020.
PACK OPTIONS:
12 PACK
12 X 500ml Bottles of Sunrise
11 PACK & SCHOONER
11 X 500ml Bottles of Sunrise plus a Hafod Club Glass