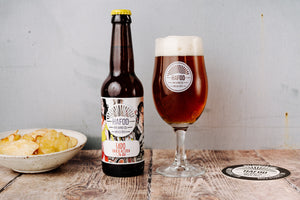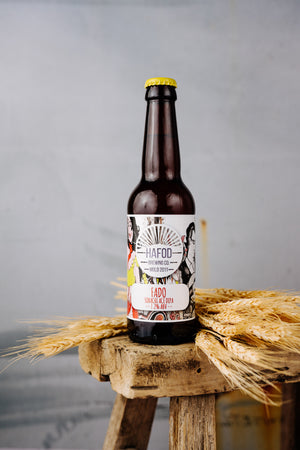 FADO 7.2% - 330ML BOTTLE
** Fado has a Best Before date of March 23. The beer is perfectly safe to drink but please be aware of the date when you make your selections **
Sorachi Ace DIPA dry-hopped with Sorachi Ace & Polaris for a spicy coconut & lime taste.
Winner of a 2 star award at the Great Taste Awards 2021!
INGREDIENTS
Water, Malted Barley, Hops & Yeast

Contains Gluten from Barley
HISTORY
Fado is our next step in dry-hopping following on from Freestyle and Storm. We wanted to create a stronger pale ale to increase the body and mouthfeel in the beer. After brewing we then added a lot of Sorachi Ace hops to the conditioning tank and let the beer mature. This dry-hopping creates a more pronounced hop profile in the finished beer.
The label design originated from a piece of graffiti discovered in a corner of a street in Lisbon, which celebrates the Portuguese singing style - Fado - and gave the beer its name.
PACK OPTIONS:
12 PACK
12 X 330ml Bottles of Fado
11 PACK & SCHOONER
11 X 330ml Bottles of Fado plus a Hafod Club Glass