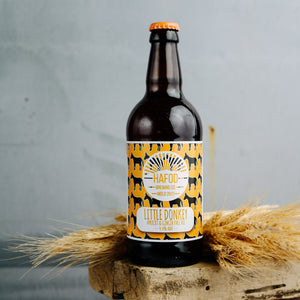 LITTLE DONKEY 4.4% - 500ML BOTTLE
A fruity pale ale, made with apricots and real root ginger for a warming finish.
INGREDIENTS
Water, Barley, Apricots, Ginger, Hops & Yeast
Contains Gluten from Barley
HISTORY
A seasonal cask favourite now available in bottles for the very first time. Invented as an antidote to some very dull Christmas beers this pale ale is made with apricots giving an inviting fruity aroma and a sweet stone fruit note to a classic pale ale body. We've topped off the recipe with real root ginger to add a warming zingy finish. Definitely not just for Christmas!
PACK OPTIONS:
12 PACK
12 X 500ml Bottles of Little Donkey
11 PACK & SCHOONER
11 X 500ml Bottles of Little Donkey plus a Hafod Schooner Glass
11 PACK & PINT
11 X 500ml Bottles of Little Donkey plus a Hafod Pint Glass
11 PACK & PINT & SCHOONER
10 X 500ml Bottles of Little Donkey plus both Hafod Pint and Schooner Glasses