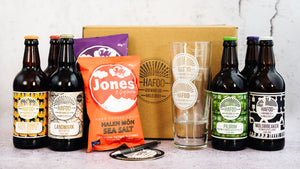 Portable Pub Gift Set
Is somebody you know missing your local pub? We can bring the pub to you with our Portable Pub Gift Set.
Each Portable Pub includes:
x 6 Bottles of Hafod Beer **
x 2 Hafod Club Glasses
x 2 Bags of Crisps
x 2 Hafod Beer Mats
x 1 Hafod Pen
x 1 Quiz
Beer Allergens
All beers contain gluten from barley. Please check each beer's ingredient list on its product page.
** Bottle choices are subject to availability. If a listed bottle is unavailable we will substitute it for the closest alternative in our range.